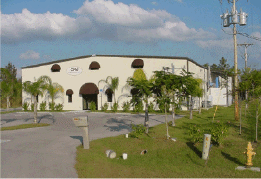 S4J Manufacturing Services, Inc., established in 1964, is a second generation, family owned company specializing in the production of ultra precision components, reusable Luer Lock connectors, Quick Connects, and miscellaneous adaptors. Our customers, over 1000 companies worldwide, are typically Original Equipment Manufacturers (OEM) of medical equipment and devices for biomedical and laboratory applications.
S4J Manufacturing Services, Inc. operated in New Jersey for 35 years. In September of 1999 we relocated to Cape Coral, Florida. Our new facility was designed around the product lines we manufacture, complete with the ability to finish in house our brass components which are electroless nickel plated. The result is a dedicated facility for the manufacture of fittings from bar stock to completed, ready to ship, components.
Our mission is to manufacture the highest quality parts at a fair price with on-time delivery. In order to achieve your acceptance and to continue our record breaking sales, we promise to strive toward the following goals:
| | |
| --- | --- |
| | Our adherence to specifications is the strictest in the industry. We maintain the tightest tolerances using state of the art CNC machinery. |
| | Our Quality Management System is registered to ISO 9001:2008. Click the above link to view our Certificate. |
| | Our knowledgeable, courteous customer service staff is equipped with on-line data for immediate information on inventory, prices, delivery, and order updates. |
| | Our technical staff is available to assist customers with questions about our products and their suitability for a given application. |
| | "Special is Standard" at S4J; nearly fifty percent of our efforts are devoted to custom parts and assemblies. Designs for custom parts are treated as confidential material. |
We are committed to keeping abreast of the ever changing demands of the medical industry, and have been leaders in the design of new products and materials to meet these demands. We encourage our customers to communicate their needs and strive to develop solid working relationships. We are always interested in hearing ideas on how we may improve our products or our services.